Mobile DNA-lab
The Mobile DNA-labs provide a connection between education at high schools and the most recent scientific insights. There are six different DNA-labs, which were developed by Dutch universities and national Genomics Centres.
The Mobile DNA-lab, 'Language of a Tumour', is concerned with cancer genomics. Since 2006 we visited over 50,000 students and 2,000 classes. Nowadays, we reach around 6,000 high school students on a yearly basis. The DNA-lab gives students a chance to try their hands at clinical and molecular biomedical research. It makes a rather abstract subject much more understandable, by providing a clear and urgent context.
Personalised Treatment
During the DNA-lab, students are encouraged to behave like real DNA-researchers by taking on the case of Mrs. X, a 36 year old patient with breast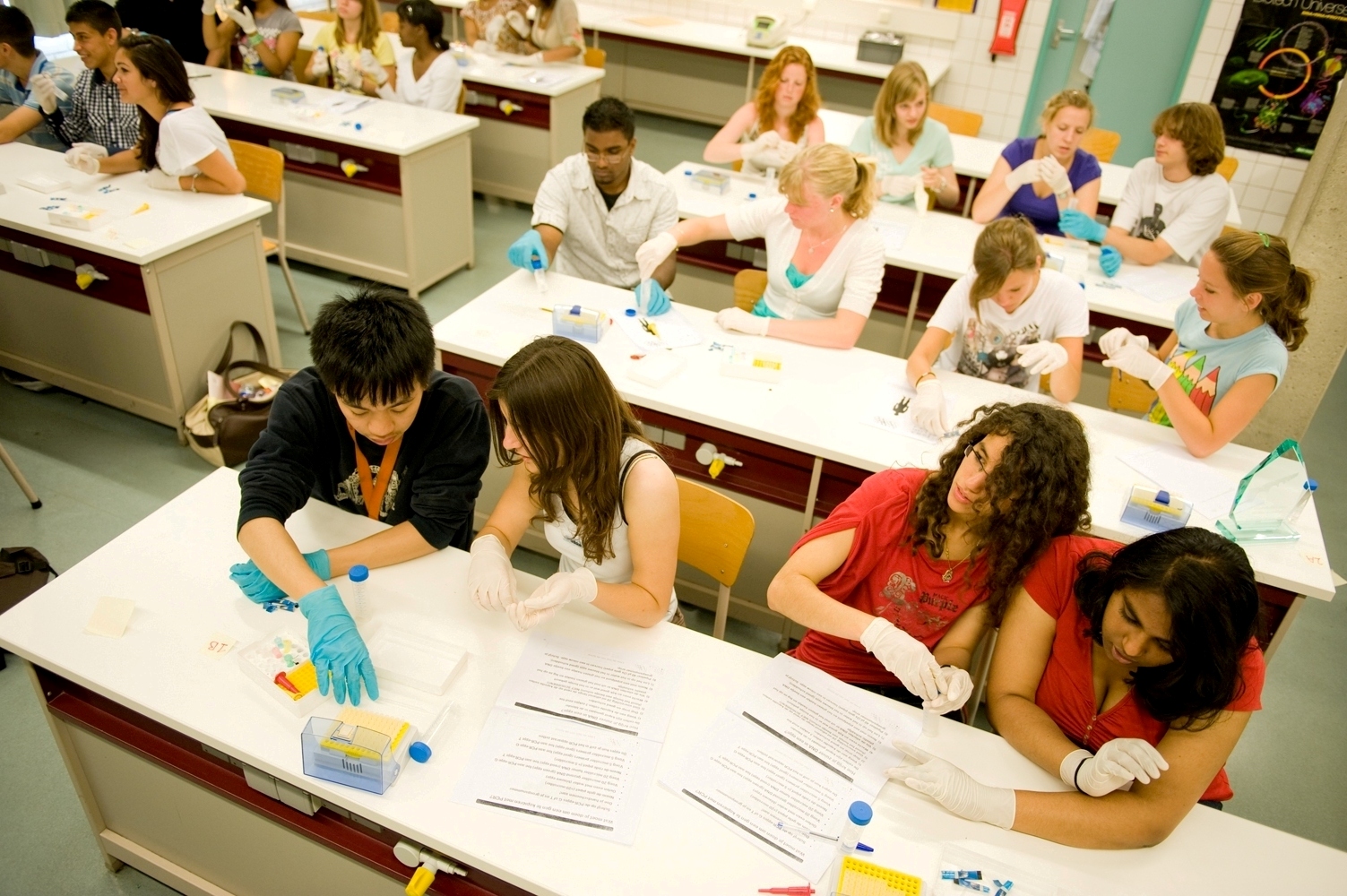 cancer. They need to find a suitable personalised treatment based on the mutations they find in her tumour-DNA. Because of Mrs. X's relatively young age, the students will also figure out whether her type of breast cancer is hereditary.
In order to do this, the students will use three different techniques: DNA-isolation, PCR, and gel electrophoresis. The DNA-isolation step is demonstrative for the real process, but uses thymus instead of patient material. It allows the students to 'see'
and 'feel' real DNA. Techniques like PCR and gel electrophoresis are usually new to students, and most schools are unable to offer these techniques themselves.
EvaluationBachelor students
The mobile lab is taught by University Utrecht Biomedical Sciences students. The bachelor offers the course 'Communicating through the DNA-lab'. The goal of this course is to teach Biomedical Sciences students about didactics and to provide them practical training by teaching the DNA-lab 'Language of a Tumour'.
During the academic year 2014-2015, high school teachers and students were asked to review the DNA lab 'Language of a Tumour'. 187 teachers responded and scored the lab with an 8.5 on a 1-10 scale and over 2000 students scored the lab with a 7.7.
More information on the labs can be found at www.dnalabs.nl (solely in Dutch). The DNA-lab 'Language of a Tumour' is coordinated by Anne-Wil Marissen: utrecht@dnalabs.nl.
12 Jan 2018
annual CGC meeting 2018
All CGC.nl researchers are welcome, however registration is required.
28 Nov 2017
ERC grant for Michiel Vermeulen
Michiel Vermeulen, one of our CGC group leaders, was awarded a prestigious ERC-Consolidator Grant.
Read more >
17 Nov 2017
Fumagalli wins CGC poster prize
Arianna Fumagalli received the 2017 poster award during the CGC meeting New Horizons in Cancer Research
Read more >
More News >
07 & 08 Nov 2019
Fundamental cancer biology
The annual joint conference of the CGC and Oncode Institute will cover different aspects of fundamental cancer biology. The organizing committee is putting together an exciting two-day programme, more information is available here.
Read more >
10 & 11 Jan 2019
CGC-Oncode annual scientific meeting
Annual meeting for the CGC and Oncode scientific community
08 & 09 Nov 2018
CGC-Oncode annual conference
Oncode and the Cancer Genomics Centre are pleased to host our annual joint scientific meeting at the KIT Royal Tropical Institute in Amsterdam. This year's topic is "From tissues to cells to molecules: multi-scale visualization of cancer processes". More information is available here
More Events >