Utrecht Summer School course
The summer course 'Molecular Mechanisms in Cancer' is organised by the Cancer, Stem cells and Developmental biology research school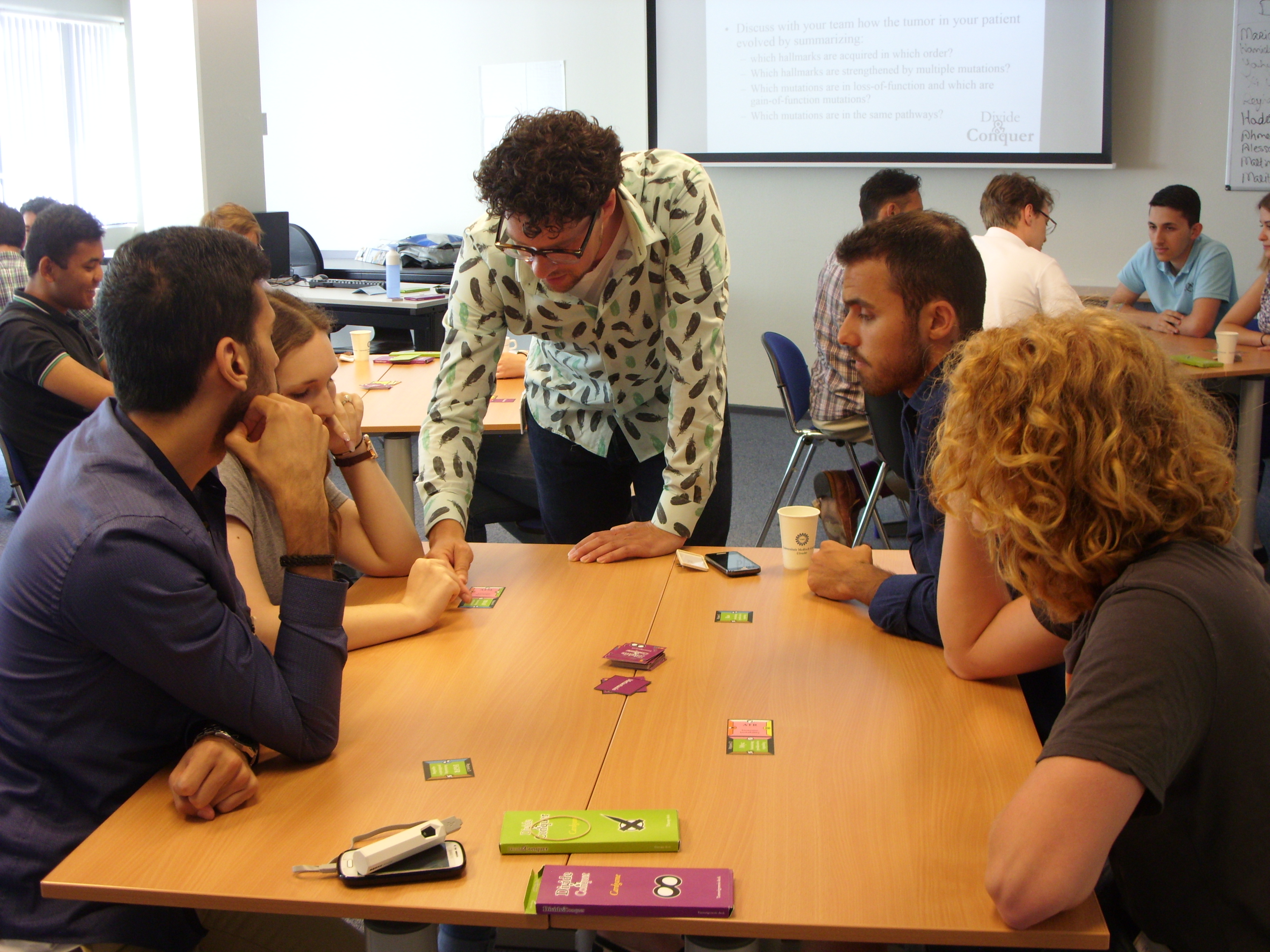 (www.csnd.nl). The course focuses on the molecular mechanisms that turn a normal cell into a cancer cell. We explore the regulation of cell cycle progression, the control of transcription regulation and the signaling networks that enable cells to execute vital processes such as growth, division and migration, and how malfunctioning of these processes may lead to tumour formation and metastasis.
State of the Art
The students are introduced to state of the art methods in molecular cancer research and novel strategies for developing and testing drugs to halt the formation of tumours. The course combines lectures, discussions, laboratory tours, and a hands-on experiment.
Topics covered during the course include: oncogenes and tumour suppressors, tumour evolution, tumour segregation, signal transduction pathways, aneuploidy, cell adhesion, intravital imaging of tumour progression and metastasis, sequencing, epigenetics, gene expression, stem cells, organoids, animal models and personal genomes.
Students
The course has a limited capacity of 20 students, to ensure personal attention and a comfortable learning environment. The course has been organised for 5 years and is mostly followed by foreign advanced bachelor and master students. We have had applicants from countries all over the world, such as Mexico, Bulgaria, Japan, South Africa, Portugal and Nicaragua.
In previous years, students made the following comments:
- Excellent combination of lectures and effectively organised tours.
- There is a lot of interaction and discussion possible with the lecturers.
- The material covered during the course gave me brilliant insights in what cancer exactly is and where the future of effective treatment lies.
- The diversity of students' backgrounds allowed encountering the same field from an international perspective.
The course takes place at the University Medical Center Utrecht (Department of Molecular Cancer Research) and the Hubrecht Institute for Developmental Biology and Stem Cell Research.
More information can be found at the Utrecht Summer School website.
12 Jan 2018
annual CGC meeting 2018
All CGC.nl researchers are welcome, however registration is required.
28 Nov 2017
ERC grant for Michiel Vermeulen
Michiel Vermeulen, one of our CGC group leaders, was awarded a prestigious ERC-Consolidator Grant.
Read more >
17 Nov 2017
Fumagalli wins CGC poster prize
Arianna Fumagalli received the 2017 poster award during the CGC meeting New Horizons in Cancer Research
Read more >
More News >
07 & 08 Nov 2019
Fundamental cancer biology
The annual joint conference of the CGC and Oncode Institute will cover different aspects of fundamental cancer biology. The organizing committee is putting together an exciting two-day programme, more information is available here.
Read more >
10 & 11 Jan 2019
CGC-Oncode annual scientific meeting
Annual meeting for the CGC and Oncode scientific community
08 & 09 Nov 2018
CGC-Oncode annual conference
Oncode and the Cancer Genomics Centre are pleased to host our annual joint scientific meeting at the KIT Royal Tropical Institute in Amsterdam. This year's topic is "From tissues to cells to molecules: multi-scale visualization of cancer processes". More information is available here
More Events >